MCLAs Laptop Initiative
Jump to navigation
Jump to search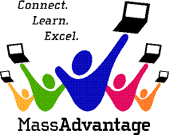 MCLA's Laptop Initiative
MCLA is requiring that all freshmen come to campus with a laptop computer. The benefits are immense. Your laptop will provide you with more freedom to work on assignments and access the Internet from various buildings and even open spaces on MCLA's campus.
Increasingly our faculty is providing class materials on-line and the campus now offers end to end wireless access for your convenience as a student. In addition, when you go home for breaks you can easily take your laptop with you.
MCLA, along with a consortium of other state colleges, has negotiated an exceptional deal on a hardware/software package from Dell. For more details on the software and repair arrangements, see the Student Laptop FAQ.

The new package for Fall 2008 is available right now! Among the most significant changes, it increases the hard drive size and lengthens the all-inclusive warranty to 4 years. Ordering has begun as of 5/16/08 .

Click here to go to a special MCLA-Dell Web site where you can configure and order laptops as well as learn about Dell financing options. The MCLA bundle will not be available through their regular Web site.

More information will appear here as it comes available. Additional information about student computing can be found at our Help Desk site.
Click here to go to the MCLA-Dell order site.
Program Laptop Specifications for Fall 2008
Intel Core 2 Duo 2 GHz Processor
14.1" Wide Screen WXGA LCD
2.0GB RAM
80GB Hard Drive
25x CD-RW/DVD Drive

Video Processor w/ 128 MBytes memory
Intel 3945 WLAN (802.11a/g) miniPCI Card
10/100/1000 Gigabit4 Ethernet NIC
56K v9.24 Internal Modem
Windows XP Professional ®
Warranty & Services
4 Year warranty for NBD on-site parts/labor
4 Year CompleteCare® Accidental Damage Service
4 Year theft tracking software (ComputracePro)
Additional Items
25' CAT5 Network Cable
MCLA Software Package
(MS Office 2007, Sophos Anti-Virus)
===Click here to go to the MCLA-Dell order site.===