MCLAs Laptop Initiative
Jump to navigation
Jump to search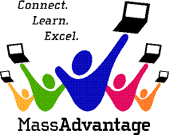 MCLA's Laptop Initiative
MCLA recommends that all students have a laptop computer. The benefits are immense. Your laptop will provide you with more freedom to work on assignments and access the Internet from various buildings and even open spaces on MCLA's campus.
Increasingly our faculty are providing class materials on-line and the campus now offers end to end wireless access for your convenience as a student. In addition, when you go home for breaks you can easily take your laptop with you. See more information on the Student Laptop FAQ section.

ORDER SITE: http://www.dell.com/mcla


Fall 2015 Program Laptops

Latitude E5450
Intel® Core™ i5-5200U Processor
4GB DDR3L RAM
500GB 7200rpm Hard Drive
Intel® Integrated HD Graphics 5500
14.0" FHD (1920x1080) Anti-Glare Display
Windows 7 Professional
4-Year Complete Care Warranty
$1,099.00



Latitude 3450
Intel® Core™ i3-4005U
4GB DDR3L Memory
500GB 7200rpm HDD
Intel® Integrated HD Graphics 4400
14.0" HD (1366x768) Anti-Glare Display
Windows 7 Professional
4-Year Complete Care Warranty
$799.00

Software Requirements For All Students
Each MCLA student is required to install the following software which is provided to each MCLA student FREE of charge.
Microsoft Office (Download FREE from On-The-Hub)

Hardware Requirements For All Students
It is recommended that each MCLA student is have a laptop. For those who choose not to purchase a program laptop and are bringing in a non-program laptop - it is important to ensure it meets MCLA's minimum hardware requirements.
Why Purchase a Program Laptop?
Massachusetts College of Liberal Arts has worked to secure a discounted price with Dell which is very competitive in comparison to similar business-class models that include similar software, warranty coverage and services.

Meets all required specifications
The program laptop is specifically setup for the needs of a typical MCLA student with full support facilitated through the college. There are also options to upgrade the laptop's processor, memory and hard drive.

The program laptop comes with Complete Care coverage on-site. Complete Care is accidental damage coverage that is unmatched compared to limited warranties. Complete care covers such repairs as screen damage, liquid spills and accidental drops. Any repairs are facilitated through the Computer Help Desk on campus.
While in attendance at MCLA, there will be no need to arrange any repair through Dell directly. The Computer Help Desk provides full support for software and hardware and will coordinate with Dell if need be. This is a service that is only provided for program laptops. The following shows a comparison of the services we can offer to students who own a program laptop rather then a non-program laptop:
| | | |
| --- | --- | --- |
| | Program Laptop | Non-Program Laptop |
| Virus Removal Services | Yes, we can even restore them to their factory state - no charge. | Limited to viruses that can be removed by standard tools, no operating system reinstalls |
| Hardware Repair Services | Yes, usually 24/48 hours turn around - No charge if warranty is active | No, user will need to seek outside repair service that can sometimes take weeks and be very expensive |
| Loaner Laptops | Yes, loaners are provided upon request when laptop is in for service | No loaner service is avaliable |
| Software Support | Yes | Limited to core supported software only, no operating system reinstalls |
| Internet Services | Yes | Yes, as long as laptop meets minimum requirements |
Students who have program laptops will be offered a loaner laptop for the time their laptop is being repaired. This service is not provided to those students with non-program laptop.

Theft Tracking and Recovery
The program laptop comes ComputracePro service which is excellent theft recovery software.

Related Topics